About Sunflair
SUNFLAIR Solar Ovens is the brainchild of Melinda Seller, a former freelance designer in the toy industry. Once highly sought after, as time went on, more and more of her work was outsourced, and at the onset of the recession, her husband lost his job. Not long after, their oven failed. They couldn't afford to repair or replace it. What to do?
This was when Melinda discovered that she could cook with the sun. Although it began out of necessity, she found that the food tasted fantastic! And not only was she saving on the cost of a new oven, her utility bills were lower too.
Now, solar cooking isn't a new idea, but it was new to Melinda, and she started thinking that it might be new to others as well. I mean, who wouldn't want to eat healthier, help the planet, and save money at the same time? Thus, SUNFLAIR Solar Ovens was born.
Supported by her husband, Bill, and her kids, Dawson and Anza, Melinda drew upon her business and design expertise to bring an affordable solar cooking experience to everyone under the sun!
WHY USE A SUNFLAIR® SOLAR OVEN?
SAVES MONEY 
• No wood, propane, charcoal, gas or electricity
• Doesn't heat up the home, requiring additional energy to cool it back down.
SAFER 
• No thermal conductivity. Outside remains at ambient temperature
• No sparks, open flames, gas lines, or propane bottles
HEALTHIER 
• No charcoal carcinogens • Nutrients cooked into food instead of being boiled or steamed away
EASIER
 • Can leave food unattended • Food will never burn
PORTABLE 
• Weighs about 3 lbs (914 g.) • Folds down to the size of a seat cushion • Take it camping, hunting, fishing, boating, picnics, tailgating, etc.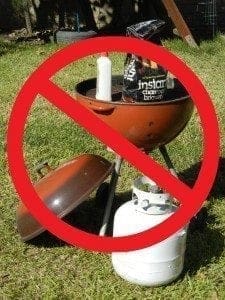 CAN GO PLACES BARBEQUES CAN'T
 • Can be used in areas where open flames are
banned 
• National parks & forests, beaches, high fire danger or drought areas
ENVIRONMENTALLY FRIENDLY • No fossil fuels • No deforestation Non polluting
EMERGENCY PREPAREDNESS
 • Cook during a power outage
• Pasteurize water • Essential part of any bug-out bag
AND SUNFLAIR SOLAR OVENS COOK THE MOST DELICIOUS FOOD YOU'VE EVER TASTED!